CERDD//ED Blog- Week 5
Setting out my Stall
One of my primary roles on this tour is ticket/merch man, and by extension, lugging a stock of CDs as well as the laptop and card machine around all 870 miles on my back. Every gig, while Chris and Seth set up, warm up and soundcheck, I scope out the venue for a handy table or other surface on which to arrange my little display.
The components that usually make up the merch table are 2 stacks of CDs with sharpie for signing, a little info sheet about the project, a mailing list and pen, mini card reader and laptop. The space available to me has varied greatly, meaning sometimes the laptop stays in the bag, or the info sheet gets leaned against something to exploit that sweet, sweet vertical dimension.
So far I've used tables of vastly varying sizes, a windowsill, and even a desk with office chair that made everyone think I actually worked at the venue, causing me to have to explain that I don't have the authority to sell them a book or a piece of artwork.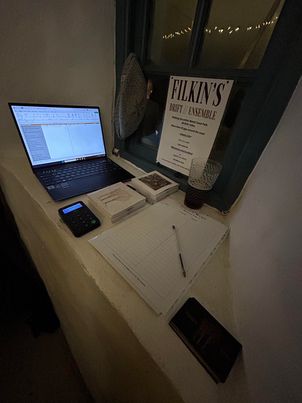 Sometimes I sit at the back of the venue at the table the whole time, allowing me to take some pics/vids while they play, sometimes I'll find a different seat out the way and don my CERDD//ED beanie when I hear the last few bars of the last track of the set, ready to head over for the interval/post gig rush.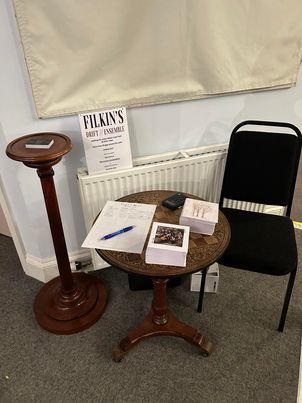 As well as selling CDs, I also end up chatting with so many people, which is such a lovely part of the day. I've pretty much learned Chris and Seth's gig patter word for word now so, as much as it is refined comedy GOLD, those chats with audience members are always lovely. Sometimes, bafflingly, people want me to sign the CDs too!
So whether its on a chessboard or a barrel, or just digging a CD out of my rucksack in the street for someone who walked with us all day but couldn't make it along to the gig, the variety of merch stall set-ups has been as varied as the venues and towns we've stopped at, and an unexpectedly fun aspect of everyday.
Catch ya next week, I'll be at the back with the CDs.

https://www.instagram.com/reel/CzZGZn1Io6m/?igshid=Y2NkYjk0MDhjYg==